BlackBerry Priv Smartphone Pre-Orders Start At $699
Whats New In BlackBerry : Beleaguered smartphone manufacturer BlackBerry latest attempt at a comeback arrives in the form of the Priv, an Android-based smartphone with the company's famous tactile QWERTY keyboard, which the company has made available for pre-order for $699.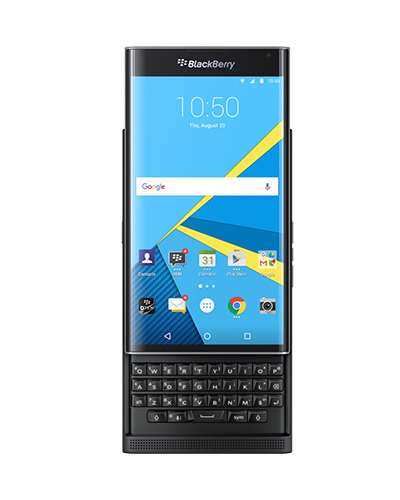 Pre-orders for the Priv Android device are also available for $899 in Canada and in the United Kingdom for £559 (about $850).
The device will ship on Nov. 6 and comes with a 5.4-inch dual-curved screen, 18-megapixel dual-flash Schneider-Kreuznach certified camera, and the DTEK application, designed to help users manage and protect privacy.
The DTEK app tells users which apps access personal data and shows the overall security of the device based on factors such as the strength of passwords, encryption settings, and the apps that have been installed.
DTEK also makes recommendations on how users can improve their overall security rating.
BlackBerry is looking to reassure users that it has taken additional steps to secure the Android platform, which is notoriously vulnerable to malware and other mobile security threats.
In addition to DTEK, the company has installed BlackBerry's Hardware Root of Trust, a manufacturing process that injects cryptographic keys into the device hardware, providing a secure foundation for the entire platform.
The Priv also boasts 32GB Flash and a hot-swappable MicroSD slot (up to 2TB), as well as a 3410 mAh battery with enough power for up to 22.5 hours of mixed use.
The smartphone is also equipped with Natural Sound, where the receiver cavity microphone monitors what the user hears and adjusts in real time for best performance, and monitors speaker motion in real time to ensure maximum loudness without distortion.
While BlackBerry is trying to revive its fortunes with Android, the company announced earlier this year that it would also continue to develop and enhance the BlackBerry 10 operating system.
BlackBerry also confirming plans to release platform updates focused on security and privacy enhancements, with version 10.3.3 scheduled to be available in March of next year.
It remains to be seen if the company's embrace of Android and sleek new handsets will be enough to turn the company's fortunes around. By the end of 2014, BlackBerry's share of the global mobile operating system market stood at only 0.4%, according to an IDC report from February. That number represented a decline of nearly 70% from that of 2013.
While BlackBerry struggles to stay relevant in an increasingly competitive marketplace, it has also been making investments in enterprise mobility management (EMM), including the acquisition of Good Technology in September.
The security specialist could help BlackBerry improve the secure application management capabilities and containerization technology that protects end-user privacy.
The company's disappointing second-quarter earnings report showed revenues from software and services down to $74 million for the latest quarter, compared with $137 million the company reported in the first quarter -- a drop of 47%.
CEO John Chen has set an ambitions sales target of five million handsets per year, but was reported saying at the recent Code/Mobile conference that the company could exit the handset business in a year if it fails to turn a profit.
source
Labels: WhatsNewInBlackberry_cellphone